Mission Moves: Adam's Grub Shack open
August 22, 2023 • Source: Mission Local • Posted in: Company News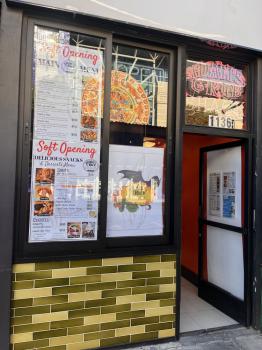 Adam's Grub Truck, a comfort-food truck that has been rolling around San Francisco, from SoMa SOMA StrEat Food Park to Spark Social to the Bayview, since 2011, has landed its own brick-and-mortar store where Valencia Subs closed earlier this month.
Adam Lee called the new location "everything that I've been hoping for," and said his main goal is to make people happy with his culinary creations. His partner, April Boquiren, said she has been asking customers during their first week what else they want to see on the menu.
"In the little time that we've been here, it's like, the culture is so diverse, and the people are so welcoming," Boquiren said.
For now, they sell an enhanced version of their food truck menu: Louisiana-inspired dishes like shrimp po'boy sandwiches, Asian slaws and rice bowls, and carnival-inspired desserts, like funnel cake fries.
The new restaurant also stays open late — until midnight on Fridays and Saturdays — which Valencia Subs owner Frankie Lee said should help liven up the block. Lee, who coincidentally shares a surname with his successor at 1136 Valencia St., said he is looking forward to eating at the new restaurant.
Lee, who along with his sister also owns popular Irving Subs and Sunset Subs in the Sunset District, said he sold the location at the beginning of August after some time struggling to find reliable help at the Mission sandwich shop location, which he first opened in 2021.
"We're running thin, we're a family-owned business, and it was hard to manage from so far away," Lee said.
Plus, Lee said, he'd hoped more people would be looking for jobs coming out of the pandemic, but that was not the case: When advertising a job opening, he'd receive a tiny fraction of the resumes that he used to get in 2019.
"We loved our experience there. It just sucks that we never could fully put all the time we wanted to there," Lee said.
External Link: https://missionlocal.org/2023/08/sf-restaurant-opening-tinto-wine-bar-adams-grub-shack/