There are signs of life at former Hollow Cow space on Union Street
May 25, 2022 • Source: SF Business Times • Posted in: Company News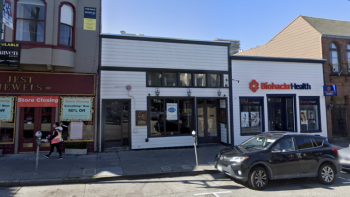 A new taco joint may be opening at the 3,184-square-foot Union Street space that formerly housed the Hollow Cow.
Sean P. Coyne last week registered a new business with the city under the name "Sacred Taco" at the address, 1875 Union St. No permits or planning applications have been filed with the city yet.
The built-out restaurant space — increasingly difficult to find as pandemic-related vacancies are snatched up — comes with a Type 1 hood, a bar and an 864-square-foot patio dining area in back enclosed with natural light via a glass and wood-awning roof.
The space, which includes 1,100-square-feet of indoor seating, can fit about 105 patrons, according to the listing via Blatteis Realty, which said a Type 47 license as well as furniture, fixtures and equipment were up for sale at an undisclosed price. Type 47 licenses allow spirits along with beer and wine.
Jeremy Blatteis, broker with local Blatteis Realty, said the landlord — which public records indicate is Joseph Bacciocco — chose between "at least eight" offers for the space. Coyne was represented by Sami Ziegler of Sausalito-based Retail West.
"Union Street has dramatically rebounded in the last six to eight months," Blatteis said, adding about Sacred Taco, "I expect them to have the best Mexican food in Cow Hollow."
Coyne could not immediately be reached for comment but I'll update this story if I hear back.
Hollow Cow, formerly the Lightning Tavern, closed in early 2020 after a little over three years, citing in a Facebook post the "challenges that come with owning a restaurant on Union Street (labor costs, over-regulation, declining foot traffic, high rent, difficult neighbors, and the growing popularity of the food delivery services)," as Hoodline reported.
One doesn't have to look far for other recent movement on Union Street, still a beneficiary of neighborhood-trending pandemic foot traffic if not near the level of more popular corridors such as the Marina's Chestnut Street, where brokers say deals were still being inked at an annual rate of $130-per-square-foot last year. Last spring the empty ex-Hollow Cow space was one of four neighboring retail properties (between Tamashisoul Sushi and Drip Doctor) vacant at the same time. Now all of them, it looks like, are coming back online to varying degrees.
Last month at 1861 Union St. one of the country's largest cannabis dispensary chains, MedMen, opened, while its neighbor at 1851 Union St., once home to Notte lounge and attached restaurant Luisa's, has been leased, according to listings from boutique firm Maven Commercial.
And 1865-1869 Union St. was purchased for about $4.1 million in September by an affiliate of Aspen, Colorado, private equity real estate company Cooper Street Capital from seller and longtime owner Eleanor Carpenter. The new owner hopes to add a 640-square-foot accessory dwelling unit on the ground-floor of a detached three-story building in the rear of the property, according to a planning application submitted last week. It's unclear what the plans are for the retail space, which is still currently available.
That two-building, 3,400-square-foot parcel — with about 5,300 square feet of interior space — includes the front two-level building with retail frontage on Union Street (the former home of Jest Jewels) and vacant office space up top. A small courtyard in the back leads to the second building, a three-story residential structure where the owner plans to add the ADU.
External Link: https://www.bizjournals.com/sanfrancisco/news/2022/04/11/cow-hollow-restaurant-bar-dining-retail.html