Arthur Beren Shoes, longtime Union Square fixture, closing
October 24, 2016 • Source: www.sfchronicle.com • Posted in: Market News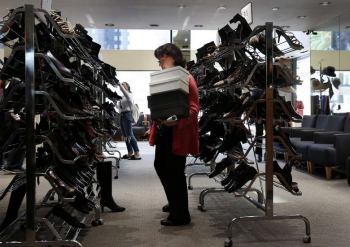 The Italian shoes, on sale for $520 a pair, will soon be gone. As will the Zur Venetian loafers, the Thierry Rabotin slip-ons, and the Kickstart Women's Bootie.
After nearly 30 years at 222 Stockton St., and more on Geary Street, Arthur Beren Shoes, one of Union Square's last remaining independent local stores, is closing.
Store owner David Beren, who took the business over from his father, Arthur, says rising rents and declining sales have squeezed the profit out of a business he loves, but which no longer seems to have a place in a retail district dominated by luxury chains like Chanel, Gucci and Dior.
"It's a changing world we are in, and we have to accept it — reluctantly," Beren said. "If that's the way it goes in Union Square, that's the way it goes. We will be part of what's gone."
The move comes after a five-year run-up in rents and valuations that has turned Union Square intoa luxury retail center with the same brands that dot global wealth centers like Hong Kong, London and New York City. Rents for prime space in Union Square have tripled to an average of $650 a square foot. Investors are shelling out well over $1,000 a square foot to buy retail buildings.
But some worry that the influx of capital has come with a cost: the vanishing local, independent businesses that for decades have distinguished Union Square from other urban shopping areas. One local Union Square mainstay, Shreve & Co., was priced out of the building that bears its name at 200 Post St. and forced to find a new home. The fabric store Britex at 146 Geary St. is working to stay in its space after its landlord filed an application with the city to convert the upper floors of the building to office space.
Laura Tinetti, a retail broker with JLL, said landlords' rent expectations are such that only a select group of tenants can afford them. The result is that some retail spaces are staying vacant longer and tenants are slower to make commitments.
"There is still demand for space, but we are seeing it taken up by the jewelers of the world — the Cartiers, the Harry Winstons — that can pay the high-water rents," said Tinetti. "There are plenty of active retailers who want a flagship in San Francisco, but they are hesitant to pull the trigger where rents are."
Beren's building is owned by the Town and Country Club, a women's social organization. The group raised Beren's rent three years ago by 50 percent. David Beren said that he looked around at other options in Union Square and on Fillmore Street but hasn't found anything that works and is economically feasible.
"I don't blame the Town and Country Club," he said. "They have a building that is worth a lot of money, and they can get the rent they are asking for. We negotiated and they even gave us a little bit of a break three years ago, but it was still a lot. The economics of it don't work for us. When your expenses go up and your income drops, it's not a good combination."
In addition to lofty rents and the increasing market share of online retailers, Union Square —in particular Stockton Street — has been under siege by the messy Central Subway construction project that began during President Obama's first term and is scheduled to continue well into the next administration.
"We tolerated the construction for so long and have gone through the worst of it," said Beren."But it has been very disruptive."
On Thursday, longtime customers like Joy Drinker of Saratoga and Jane Golden of San Leandro stopped by the store to say goodbye and stock up on shoes. For Golden, retired director of curriculum for the Pleasanton Unified School District, Arthur Beren is the last reason to make quarterly pilgrimages to downtown San Francisco.
"I can go get my clothes in Pleasanton. This was the reason to come over. It was the destination," she said. "This is really not good for San Francisco."
Beren Shoes moved to its current location in 1988. Before that it was on Geary Street near Union Square. Before that it was based in Oakland and called Kushins. Arthur Beren started working there while a student at UC Berkeley. The senior Beren, now 90 years old still stops in the store on Fridays after lunch at Le Central.
Golden said she went to Kushins with her mother. "You'll find hundreds and hundreds of women throughout the Bay Area who are just going to be shocked and saddened by the store closing," she said.
Salesman Morgan Von Rueden moved over to Beren 23 years ago from I. Magnin. The two Union Square stores were competitors — both specialized in Salvatore Ferragamo shoes. He dines with his Beren customers, attends their children's weddings and chats with them on the phone on weekends or in the evening.
"They are calling up, 'What do you have in my size? I'll have it all.'" They are buying $4,000 or $5,000 or $6,000 right off the top because they know they are not going to buy shoes for a long time."
On Thursday, Drinker hugged him on her way out the door with several pairs of new shoes. "I amso sorry you are going out of all our lives," she said. "Everyone has so counted on you for a wide range of styles and choices. And always high quality."
Read More Here