Demolition begins at SoMa site where 11-story hotel will rise near AT&T Park
October 13, 2016 • Source: www.bizjournals.com • Posted in: Market News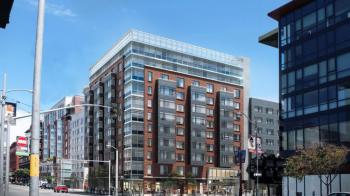 The McDonald's at 701 Third St. in SoMa shut its doors last week to make way for a new 11-story hotel that will rise in its place.
Plans for the full-service Hyatt Place have been approved and building permits are in the works. A block from AT&T Park, the hotel, which is being developed by Colorado-based hotel development firm, Stonebridge Corp., will feature 230 rooms and over 2000 square feet of retail space.
The 103,000 square-foot hotel is being designed by Stanton Architecture and will be LEED Platinum certified, featuring vegetated roofs, a grey water system, a public courtyard at the ground level and roof decks for hotel guests on the 9th and 12th floors.
Stonebridge Corp. bought the site in 2014 for an undisclosed amount, though the Business Times has previously reported that the site was expected to sell for more than $17 million.
According to SocketSite, the building primed for demolition (now the McDonald's) was cast in the 1983 classic, "Dirty Harry," as the diner where Clint Eastwood delivered his iconic line, "Go ahead, make my day."
The hotel that will rise in its place will be one of many new hotels shooting up across the city. More than 20 hotels and up to 4,000 rooms have been proposed or are in development in the city's urban core, potentially raising the city's inventory by 10 percent.
Read More Here