Downtown San Mateo properties see strong interest
October 12, 2022 • Source: The Daily Journal • Posted in: Market News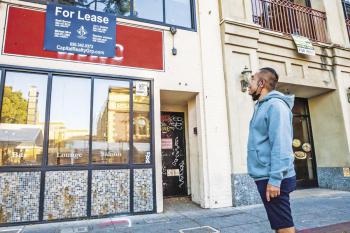 Downtown San Mateo office and retail properties continue to be in demand from tenants, according to local real estate brokers, with several properties recently leased or nearing so.
Michael Silva of Capital Realty Group is closing in on a tenant for his property at 234. S. B St., formerly the Attic Bar and Grill. The property has been vacant since April 2020 and is challenging to lease because of its large size and refurbishment needs. The 4,800-square-foot site has had interested parties but from people who want to subdivide it. Silva said his group is in advanced talks about a lease with a tenant, with the potential site a destination that will not exist anywhere else in downtown San Mateo.
"I think the demand has rebounded to near pre-pandemic levels," Silva said of downtown vacancies.
While demand is there, given San Mateo's location and demographics, Silva said there is a logistical challenge to finding qualified operators. He cited the inexperience of new people trying to open a new business, with the housing crisis making it even more challenging to find in-demand contractors. Silva said the city permitting process has become more complicated for new business owners, and the pandemic has squeezed profit margins and made it harder for current tenants.
"It's like people are getting squeezed all at the same," Silva said.
DivcoWest, a real estate investment firm in San Francisco, recently announced new office leasing at its downtown San Mateo property at 101 S. Ellsworth Ave.,, a six-story building. According to a company announcement, the property has seen significant new long-term leasing and renewals in the past nine months. Its newest tenant is Luminary Cloud, an early-stage startup focused on innovations in high-performance computing for industrial research and development. DivcoWest announced Luminary Cloud had rented 34,000 square feet in late September. DivcoWest's property at South Ellsworth is a newly renovated boutique office building two blocks from the San Mateo Caltrain station, with tenants like Merrill Lynch, PeakSpan Capital, Evidation Health and Acacia Capital. According to DivcoWest Managing Director Eric Lupinski, tenants want to lease downtown because more buildings are now available, and surrounding transit and amenities are within a walkable neighborhood.
"Our market-ready specific suites at 101 S. Ellsworth are almost completely leased up to tenants on long-term deals, clearly indicating that creative users see tremendous value in high-quality buildings in a downtown San Mateo location," Lupinski said in the announcement.
The council has made addressing vacancies downtown a priority that increased due to the pandemic effects and changes like an increase in online shopping. In September 2021, a city survey found its total vacancy rate downtown was 12%. However, if properties leased to a new tenant but appear vacant are removed, the rate is 9.75%. The typical vacancy rate in commercial districts during non-recession times is 7%. The survey also found that non-food sites have a harder time finding tenants and often remain vacant longer.
Jennifer Chen, San Mateo Economic Development manager, said by email there was an uptick in commercial leasing of spaces as businesses continuing to recover from the pandemic, investing in new leases and entrepreneurs starting new businesses, with downtown seeing increased interest in desirable locations and spaces. She said a restaurant called Kajiken Noodles will be moving in to the former Old Town Ramen shop at 100 S. B St., while a new bakery called SimplyCake recently opened at 132 E. Third Ave.
Jeremy Blatteis with Blatteis Realty in San Francisco said the commercial market coming out of the pandemic is going well and was better than last year. However, it isn't quite where it was pre-pandemic. He is talking to buyers for his property at 310 Baldwin Ave., with lots of interest as Blatteis Realty looks for the right deal. The property covers most of the block and includes a parking lot in the back.
He believes San Mateo and the Peninsula are in a great position moving forward because cities are business-friendly. He thinks San Mateo's expected future population growth will increase opportunities downtown.
"I think San Mateo is going to look dramatically different in a good way," Blatteis said.
He believes more interesting tenants will arrive in years to come offering services currently unavailable. Blatteis predicted that downtown San Mateo would look much different in 10 years while preserving its character as a place for families.
"I think we are going to look back at this time and realize how important this year was for development [downtown]," Blatteis said.
External Link: https://www.smdailyjournal.com/news/local/downtown-san-mateo-properties-see-strong-interest/article_cab22608-493a-11ed-ba66-3385c56d4eaf.html