German automotive supplier signs massive lease near Tesla
November 11, 2016 • Posted in: Market News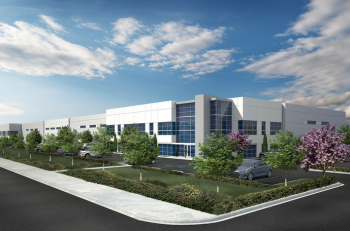 German automotive supplier SAS Automotive Systems has pre-leased an entire 142,188-square-foot industrial building in Newark, less than five miles from Tesla Motors Inc.'s Fremont factory.
Eureka Landing, located at 39888 Eureka Drive, is being developed by Overton Moore Properties andis part of the larger 1.1 million square foot Stevenson Point Tech Park, which has tenants that include Apple, Unigen Corporation, SMART Modular Technologies and Triple Ring Technologies, Inc.
Steve Kapp of Newmark, Cornish & Carey said that the lease is one of the largest to date for aTesla supplier in the I-880 corridor.
Eureka Landing will house around 200 employees and manufacture dashboard subassemblies for Tesla.The project will be finished later this month and SAS will move in January, after improvements are made in the HVAC and electrical systems.
In October, Tesla submitted plans for a major expansion to its Fremont assembly plant, seeking to double the size of their factory by adding another 4.6 million square feet to the facility.
The news has kicked off major interest from prospective tenants looking to cash in on the company's growth and its ambition to scale up and build 1 million cars a year.
Kapp also mentioned the impending convergence of SolarCity and Tesla as a major driver of interest from tenants, saying "there are suppliers you would never even think of that are looking to move in."
Demand for high-quality industrial space in the I-880 corridor has continually increased as interest grows from advanced manufacturers, pushing down vacancies to historic lows. A Collier's International report put vacancies in the area at 1.8 percent.
While this real estate cycle has seen millions of square feet of industrial space developed in the market, most, like Eureka Landing, have been fully leased out prior to completion or shortly thereafter.
Brokers have turned to listing properties with no pricing information because fluctuations aredriving asking rents higher and higher by the month.
"We're getting more and more calls about international business," Kapp said. "This isn't just theRust Belt, we're getting interest from places like Taiwan and Australia."
While the leasing price for Eureka Landing was not disclosed, Kapp called it "significantly higher" than the average asking price in the market for industrial space, around $0.72 p.s.f.
Projects currently in the pipeline in the I-880 corridor include redevelopments of the former Georgia-Pacific and Kraft factories in San Leandro and 1.2 million square feet of industrial space at the Pacific Commons in Fremont.
The current wave of industrial construction, geared more toward advanced manufacturing, strikes some major differences between the factories and warehouses of prior decades.
"Old warehouses were a big box, with an office and toilet," Kapp said.
Current trends include increased IT and security infrastructure, high clear heights and more energy-efficient buildings.
Kapp, along with Mike Spiro and Curtis Stahle from Newmark Cornish & Carey, represented the landlord in the deal. Colliers International's Mark Triska and Sanjiv Chadha represented SAS.