Giants hit home run with San Francisco supes: Board OKs huge housing plan
February 15, 2018 • Source: SFGATE • Posted in: Market News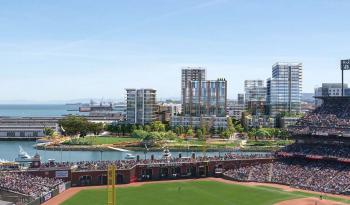 The San Francisco Giants' 28-acre development at Mission Rock earned unanimous support from the Board of Supervisors on Tuesday, clearing an obstacle for construction of stores, cafes, markets, office space and up to 1,500 housing units on a barren parking lot.
"Where you see a 28-acre, windswept eyesore, I see potential," said Mission Bay resident Chris Kelton, one in a parade of supporters who heaped praise on the project. It was approved in a 9-0 vote, with Supervisors Ahsha Safai and Malia Cohen excused because they had other plans.
Mission Rock will rise from a port-owned patch of land across the Lefty O'Doul Bridge from AT&T Park. The Giants will checker that land with eight acres of open space, 1.5 million square feet of retail and offices, and a dense layer of housing, 40 percent of it affordable to low- and moderate-income people.
The high affordability ratio was a major achievement for progressive Supervisor Jane Kim, who represents Mission Bay and who participated in negotiations with the Giants and their partners. The team secured the land in 2007 and spent a decade in community meetings, refining the development until it found favor with residents, environmentalists, moderates and progressives.
Even Supervisor Sandra Lee Fewer, who professed concern that the families who live in Mission Rock will not have a neighborhood public school for their children, ultimately voted to approve it.
Fewer, a former member of the city's Board of Education, has wanted for years to build a school in Mission Bay. The Giants agreed to help with that effort, though their role was unclear.
In another unanimous show of support, the board voted in favor of a halal butchery seeking to open in an industrial section of San Francisco's Bayview district. In so doing, the supervisors overruled protests from environmentalists and animal rights activists who tried to hold up the project.
Saba Live Poultry will open at 1526 Wallace Ave., where it will sell and slaughter small livestock using methods prescribed by Islamic law.
Supervisor Malia Cohen, who represents the Bayview, called Saba a welcome addition to an area long known for its paucity of restaurants and grocery stores. She made the motion to reject an appeal by the Animal Legal Defense Fund, whose members raised concerns about the impacts that the slaughterhouse would have on air and water in a low-income neighborhood.
They wanted to subject Saba to a rigorous and time-consuming environmental review that would stall and possibly derail its opening.
"The Bayview is a food desert, and access to healthy foods is difficult," Cohen said. "I believe this project would be an added benefit to the neighborhood."
Among Saba's supporters at the hearing were members of various Muslim organizations and labor activist Olga Miranda, who described "accessibility of meat" as a trenchant political issue for immigrant communities.
The supervisors also approved a $250,000 settlement with San Francisco firefighter Elyse Duckett, who said the Fire Department unfairly blamed her for driving a truck over 16-year-old Ye Meng Yuan, who was lying on the runway after the Asiana Flight 214 crash in July 2013.
Duckett said in her lawsuit that her truck was the second to run over Yuan, but that she became a scapegoat to cover up larger department failures in training, equipment and leadership. Those failures were exposed by the Asiana crash, which put San Francisco's emergency response system under intense scrutiny.
Also, Supervisor Catherine Stefani introduced new legislation to bar the carrying of firearms at political free speech rallies, and Board President London Breed called for conservatorship of the mentally ill to be moved from the district attorney to the city attorney.
Rachel Swan is a San Francisco Chronicle staff writer. Email: rswan@sfchronicle.com
Twitter: @rachelswan