Google releases new renderings for canopied campus
March 6, 2017 • Posted in: Market News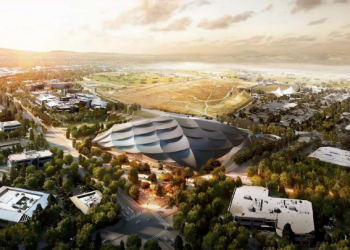 Google has shared the latest renderings for its futuristic, canopied campus in Mountain View's North Bayshore neighborhood.
Called Google Charleston East, the 595,000-square-foot office building would be Google's first ground-up project. The 18.6-acre site would include walking trails, a public park and plaza and ground-floor retail.
Google paid $215.2 million to LinkedIn last year in a blockbuster Silicon Valley land swap that allows the two tech giants to each move forward with their respective development plans. That deal gave Google control over critical puzzle pieces in North Bayshore, providing a path forward for the search giant's futuristic vision there.
Meanwhile, the deal gave LinkedIn property elsewhere in Mountain View and in Sunnyvale that allows it to build out a cohesive corporate campus years earlier than initially anticipated.
The new images released show the Google campus is retaining its multi-tiered "canopy," which drapes over the entire two-story building. The roof reads more like a tent being propped up by tall beams throughout the building, rather than a dome, which is the building concept the tech giant originally pitched t o the city in 2015.
Trails and parklettes wind through the development, which Google renderings show accommodating food trucks, fitness classes, cyclists and pedestrians.
Google will still need to get approval from the city of Mountain View to build the campus. Tentatively, the city is planning a public hearing on the project March 7 at 6:30 p.m.
External Link: http://www.bizjournals.com/sanfrancisco/news/2017/03/02/google-mountain-view-north-bayshore-campus.html