How to keep the sky from falling: What the S.F. hospitality industry has done to prepare for Moscone Center renovations
January 9, 2017 • Source: www.bizjournals.com • Posted in: Market News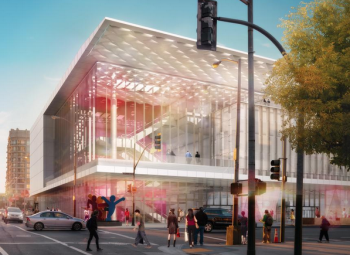 After several years of celebrating a red-hot tourist economy, the hospitality industry is bracingfor a potentially cool 2017.
That's because the Moscone Center is undergoing a $500 million expansion that will close a large portion of San Francisco's biggest convention center through 2018, leading to the loss of 290,000 visitors in 2017, according to SFTravel. Others predict up to 1 million fewer visitors in 2017 and 2018 combined. SFTravel is forecasting the loss of up to 490,000 room nights over two years, a huge blow to the city's economy.
"Achieving a positive rate growth in 2017 will be really challenging," said Nicole Halmer, senior director of SF Travel's research and market strategy department.
Moscone West will remain open during construction while Moscone North and South will close from the beginning of April through the end of August 2017. After that, North and South will close on weekends and some evenings for the next year as work continues.
In the end, the renovation will increase the usable event space more than 25 percent and will eventually help fill more hotel rooms and restaurant seats in San Francisco. But in the meantime, businesses will have to make up for that lost revenue, a major focus for the hospitality industry as the reality of the closure draws near.
The outlook isn't as dire as it sounds, though, according to Halmer. SF Travel is not predicting an economic downturn so much as a slowing of growth: it predicts that San Francisco will pull in 25.9 million guests in 2017, a 2.8 percent increase over 2016, but that revenue generated by lodging will essentially be flat.
"We're promoting this as if the sky is falling," Halmer said. "But hopefully it won't."
Hotels and restaurants surrounding Moscone will have to work hard to make sure of that.
Hotels look abroad
With the help of SF Travel, hotels in the area are focusing on attracting visitors that might not have been able to come to San Francisco before.
Hotels are eager to avoid talk about cutting standard room rates, but fewer Moscone visitors means fewer "peak" periods when high demand shoots prices way up.
"It's easy to rely on the big Moscone events here year after year, but there's so much interest in San Francisco that it's not that challenging to go out and look for new opportunities for people who want to be here," said Jon Kimball, general manager and managing area director of the Palace Hotel. "We're talking to people who couldn't afford us in the past, international travelers and groups that ordinarily wouldn't be able to come, especially in those peak times when we've had those citywide [events]."
Between the 11 convention cancellations and the lost 490,000 room nights due to the closure, San Francisco may be more accessible and less expensive.
"This will be a great time to embrace all of these different markets that have wanted to be here and haven't been necessarily able to find the space," Kimball said.
To draw this new crowd, SF Travel is focusing heavily on the international market, which makes up a large portion of the revenue generated by tourism in the city. Though only 29 percent of overnight visitors in San Francisco are international travelers, they make up 63 percent of the total overnight spending, or more than $5 billion. Chinese visitors generate 35 percent of that spending.
Not surprisingly, SF Travel will target its marketing efforts on China, followed by India, Germany, France and the U.K.
SFTravel is also working with hotels to book smaller meetings in hotel ballrooms and meeting spaces. The organization launched a campaign called "Wow," which provides special incentives for meeting planners to book hotels.
Hilton Union Square and Hilton Parc 55 are partnering with neighboring hotels to book "miniwides," or conventions that could fit in a center, but instead will spread out between several hotel meeting spaces, according to Frank Manchen, area director of sales and marketing for the Hilton hotels.
Between the two hotels, Manchen has 2,900 rooms to worry about booking, and in the past, 30 to 40percent of Hiltons' yearly business comes from citywides. But between the increased international market and the smaller meetings, Manchen is confident he'll fill the vacancies.
"This is a great opportunity for some communities that have been shut out in the past to enjoy San Francisco," Manchen said.
Restaurants get creative
Restaurants surrounding Moscone are also having to adjust their business models to cater to a different clientele and are relying on the local hotels to get them to the tables.
"Restaurants need to be proactive by providing group menus and easy-to-use tools for the hotel sales people that may be booking guests," said Andrew Freeman, president and founder of restaurant and hospitality consulting firm Andrew Freeman & Co.
Stacy Jed, co-owner of Moscone area restaurant Bluestem Brasserie, echoed this sentiment.
"Hotel concierges are our lifelines in making recommendations to come to our restaurant," she said.
Bluestem Brasserie makes about 20 percent of its yearly revenue from Moscone conventions. In addition to connecting with hotels, Jed is tweaking her business model to cater to the potential influx of international visitors, including printing the menu in different languages, adding images and offering fixed-price or group meal options.
Jed is also partnering with neighboring businesses to create restaurant crawls or packaged experiences that involve several surrounding businesses. She is also working with event planners, hotels and Moscone to use her two-level restaurant as a breakout meeting or event space.
"While we think of ourselves as a restaurant, we're still an indoor space," she said. "So what creative ways can we utilize that space that may not include food and beverage but still helps the bottom line?"
While E&O Kitchen and Bar is adopting some of these initiatives, it is taking a slightly different approach. The restaurant's bread and butter comes from its private dining and events, and 30 to 40 percent of that business comes from Moscone conventions. To make up for that lost customer base in 2017, E&O's director of private events and sales Beth Rankin is focusing on streamlining event packaging and booking.
"Based on what we're looking at for 2017, I really want to make it simpler for people to book with us. So our action plan is to offer something that I haven't seen offered really at any of my competitors' websites, which is much more one-click shopping," she said. "That really translates in to more bookings and faster bookings."
Rankin is working to make E&O's packaging clearly defined and priced so there's less guessing for the customer. She is also perfecting the restaurant's ability to take group bookings within a 24-hour window, something rare for a venue.
Similarly, One Market Restaurant is upping its event offerings, both private and social: The venue is working to increase its wedding, birthday and bar/bat mitzvah bookings, as well as hosting popups and adding lunch to its dining offerings to attract local clientele in addition to tourists.
"We're a city that people enjoy coming to, and that hasn't changed," Bluestem's Jed said. "I always find that creativity comes out of compression periods. And this is going to be one o f those times."
View Full Article Here