Is this sinking Rite-Aid in San Mateo the new Millennium Tower?
November 3, 2016 • Source: www.bizjournals.com • Posted in: Market News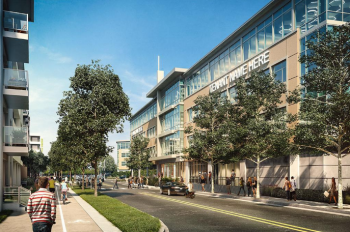 The sinking of a San Mateo pharmacy is being blamed on the dewatering happening during construction next door, in echoes of San Francisco's ongoing Millennium Tower debacle.
The owner of the Rite-Aid at 666 Concar Drive has sued the developer building an office park next door, saying in a lawsuit that it temporarily removed water from the ground at the site, which caused the pharmacy's floors to sink as far as 9 inches in some places.
Thrifty Payless, which owns the Rite-Aid, is bringing the lawsuit against Pearlmark Hines San Mateo LP, the developer of the project at 400 and 450 Concar. It is asking for $2.5 million in compensation, as well as consequential damages, court costs and expert fees.
"In its suit, Rite Aid says it has received formal notices from its landlord and the city of San Mateo to repair its property," the San Francisco Chronicle reports."On Sept. 20, the city sentnotices to Rite Aid and to Ross Dress for Less — which has a store next to Rite Aid that is even closer to the construction site — ordering them to fix unsafe conditions caused by subsidence."
At the beginning of August, it was revealed that the 58-story Millennium Tower in San Francisco'sSoMa is sinking more than a foot and leaning two inches, and could soon face a rash of lawsuits from angry homeowners worried about their investment in the $350 million building.
The squabble in San Mateo resonates more widely because the type of dewatering done is similar to the method used by the Transbay Joint Powers Authority when it began building the Transbay Transit Center next door to Millennium. That dewatering has been seized upon by homeowners in the tower, who say it caused the entire building to shift and tilt. The TJPA has rejected that theory, repeatedly saying that the building's sinkage began before it began construction.
In San Mateo, both the Rite-Aid and a Ross store nearby have been affected, the city found, and has ordered them to begin repairs to fix unsafe conditions.
"The lawsuit says excavations for the office buildings extended below the water table, which is about 5 feet below ground," the Chronicle reports. "It says Hines used a total of 40 dewatering wells at the two sites to remove 42.8 million gallons of groundwater between April 2015 and April 2016."
Neither Hines nor Thrifty returned requests for comment on Wednesday.
Still, in the Bay Area, the use of dewatering and the continued construction of structures in built-up areas can sometimes lead to problems, experts told the paper.
"It's a real phenomenon, and it has caused real damage to buildings in the past," Alan Kropp, a geotechnical engineer in Berkeley, said.
Please Check Out the Full News Article Here Here