Loss of Britex to rip hole in Union Square
October 6, 2016 • Source: SF Chronicle • Posted in: Market News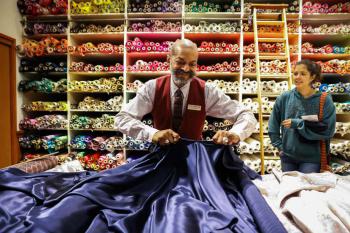 Britex Fabrics, the Union Square landmark that has drawn generations of garment-makers, designers and decorators to its four floors of silks and woolens, faux furs and rare buttons, is looking for a new home now that an investment group has purchased the building with plans to convert its upper floors to office space.
On Tuesday, the property owner of 146 Geary St., which has been home to Britex for 64 years, filed an application with the San Francisco Planning Department to convert three floors of the building from retail to office space. The ground floor will remain retail — just not the business that has been there since 1952.
In February, the owners — a partnership of Central City Realty Partners and Acadia Realty Trust, which purchased it last year for $38 million — informed the city that Britex would "be vacating the building in the near future." The owners stated they "would like to be able to offer new tenants of the building the opportunity to change the lettering on the Britex sign so that it would meet the needs of the new tenant."
On Wednesday afternoon, store owner Sharman Spector said she wasn't aware of the landlord's plans, first reported by SocketSite, but seemed resigned to an eventual move. She said Britex still hastime left on its lease, but would not say how much.
Read More Here