Lucas museum gets a boost from San Francisco progressives
October 31, 2016 • Posted in: Market News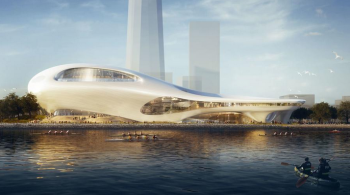 A push to bring George Lucas' $1 billion sci-fi museum to San Francisco's Treasure Island has been getting a boost from the city's progressive lawmakers, who could smooth the way for the project to jump state and local environmental hurdles as quickly as possible.
The project is looking particularly attractive because Lucas has said he will build it with his ownmoney, Supervisor Jane Kim, whose district includes Treasure Island, told the San Francisco Chronicle this week.
"Free is good," Kim said. "It's the right plan in a great place and will bring cultural opportunities and jobs to the people of San Francisco."
Lucas unveiled plans last week for designs for the project either on Treasure Island or in Los Angeles' Exposition Park. You can see the S.F. design above.
Lucas originally wanted to place his proposed Lucas Museum of Narrative Art in the Presidio in San Francisco. When that plan fell apart, San Francisco Mayor Ed Lee offered a waterfront site that Lucas rejected. So the billionaire "Star Wars" creator took plans for the $700 million cultural museumto Chicago, his wife's hometown.
But now that's dead, leaving multiple cities, including S.F., Oakland and even Los Angeles trying their best to lure the institution to the West Coast. The latest Treasure Island plan has received glowing praise from San Francisco politicians, which is a good sign for a project previously bogged down in red tape.
"I read (the proposed museum) as an iconic San Francisco landmark, and after all the commenting, people will come to the realization that it works, whether it looks like rolling fog or something else," Supervisor Aaron Peskin told the Chronicle.
The latest iteration of Lucas' plan works with Lennar Corp. and Wilson Meany to build the museumon four acres on the S.F. portion of Treasure Island, 100 feet away from the waterfront, on a site that had been meant for a 200-room hotel development. Lucas' 12-story museum would therefore be able to leapfrog the city's vetting process, as well as "jumpstart" ferry service to the island.
"It is going to mean we end up with a robust ferry service five years earlier than we would otherwise have," Peskin said.
Read More Here