Oakland: New Life for Quirky Gingerbread House Building
March 28, 2016 • Source: www.bayareainsider.com • Posted in: Market News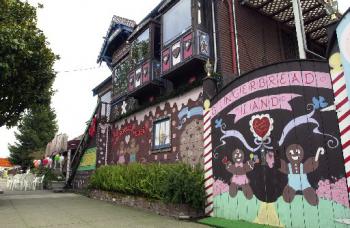 For many years the charming dollhouse-like structure with bracketed eaves, dark brown bargeboard trim and cookie-cutter folk art-style attachments has stood on the corner of Fifth and Brush streets, sandwiched between a freeway offramp and the BART tracks. Many remember it as the home of the popular Gingerbread House and Tea Garden, owned and operated by T.J. Robinson, a Louisiana transplant who for more than 30 years served a smorgasbord of Cajun and Creole cuisine. Her biography states that she used her grandmother's recipes as inspiration for her cooking. In the 1990s, she was named one of America's Top Black Chefs.
Ill health forced Robinson to close her popular eatery in 2007, and she passed away in 2011. Many wondered what would happen to the quirky building, and nearly a decade would pass with no answers forthcoming.
The good news is starting this month . . .