Posh L.A. retailer coming to Pacific Heights
March 31, 2022 • Source: San Francisco Business Times • Posted in: Market News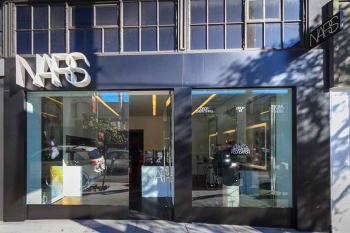 Clare V, the chic fashion brand from Los Angeles designer Clare Vivier, is opening a second store on Fillmore Street, the latest sign of resurgence along the lively Pacific Height corridor.
The French-inspired brand primarily known for its women's handbags and accessories has signed a lease for about 800 square feet at 2050 Fillmore, city permit records show. The store will be Clare V's 11th, allowing the brand to double its San Francisco presence while avoiding delays related to the city's formula retail law, which kicks in for any retailer with 11 locations worldwide.
Vivier, a University of San Francisco alumna known for her minimalist L.A. aesthetic, opened her first Clare V store in Silverlake in Los Angeles in 2012. Since then she's opened locations throughout Southern California, New York, Chicago and at 344 Linden St. in Hayes Valley in San Francisco.
Available space is typically rare along the popular retail corridor in the posh Pacific Heights neighborhood and carries a premium price tag, but it was hit hard in the early days of the pandemic. Sarah Brett-Schwartz, a retail partner at Maven Commercial Inc., said the boutique brokerage was handling more than a dozen vacancies between her and retail partner Pam Mendelsohn at the time.
But today Maven's portfolio on Fillmore Street is down to about three or four availabilities after more than a half dozen stores recently opened or signed, Brett-Schwartz said, describing the new tenant mix as leaning toward jewelry, accessories and online-originating brands.
"Historically on Fillmore Street there was very little downtime, very 'take this deal as it is' with one or three months free," Schwartz said, noting the street's mainly "mom and pop" landlords have slightly lowered asking rates. "Now with permitting processes, tenants need more time with the way the city is backed up. I'm doing deals right now where the tenant is paying rent for six months and still waiting on permits. Sometimes the landlord will cover that."
Some of the new stores on the way or recently opened include:
Lululemon has recently started construction at its 3,300-square-foot space at 2040 Fillmore St. after securing formula retail approval through the city planning process.
ThirdLove lingerie, the San Francisco-based direct-to-consumer creator of what rave reviews call the "perfect fitting bra," will soon open its second Bay Area location and one of its first brick-and-mortars in the 2,100-square-foot space at 2033 Fillmore St.
Moscot, New York luxury eyewear brand, is moving into a 623-square-foot space at 2109 Fillmore St. once it has passed through the city's formula retail review process.
Redmint, a local acupuncturist and skincare retailer, opened last week at 2044 Fillmore St. in the 3,233-square-foot space vacated by International Orange.
Cuyana opened its sustainably branded women's apparel and leather handbags store at 2116 Fillmore St. in February after closing its previous Union Square outlet.
Lunya, specializing in sleepwear, opened its first San Francisco store, a 1,200-square-feet location at 2124 Fillmore St., in November.
Fiat Lux, a local destination for jewelry and piercings (and from the same owner as Rose Gold's Tattoo & Piercing) with its first store in the Mission, opened a second outlet at 1942 Fillmore St. in May.
Intimate apparel retailer Knix opened a 1,200-square-foot store at 2122 Fillmore St. in November.
Jewelry brand Alexis Bittar opened its new location at 2105 Fillmore St. last year.
A new restaurant tenant is taking over the 4,800-square-foot former DOSA space at 1700 Fillmore St., Schwartz added, and an activewear retailer is heading to 1903 Fillmore St., taking 1,300 square feet.
External Link: https://www.bizjournals.com/sanfrancisco/news/2022/03/23/clare-v-retail-fillmore-pac-heights-vacancy.html