Real estate robots: San Francisco startup using 3-foot-tall roving devices for showings
January 3, 2018 • Source: SFGATE • Posted in: Market News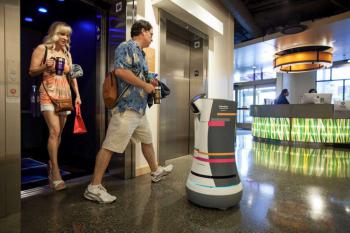 Zenplace, a property management startup in San Francisco, is using robots to lead prospective tenants around for showings. The startup says it wants to make the scheduling process easier for real estate agents and tenants; apparently the best way to do that is to switch out a human body for 3-foot-tall robotic devices.
Realtors can control the robots remotely from anywhere. During showing hours, if a tenant walks by a Zenplace home, they can schedule a tour either by smartphone or just by unlocking the front door. The app provides an access code for the door and step-by-step instructions for dealing with the real estate robot.
Zenplace launched in the summer of 2017. Now, a few hundred robots are acting as home tour guides in the Bay Area. The remote Realtors can also switch out their faces for images of other neighborhood amenities, or information on rental history.
The company has a lot in common with Beam, a Palo Alto startup that's also trying to bridge distance with the help of semi-autonomous devices. The 53-inch, battery-powered device looks like an elliptical machine, minus the exercise. It allows workers or others to navigate around an area and do everything that people in real life do: discuss project strategies, attend meetings, or make awkward holiday conversation.
But it also lays the groundwork for a society — both professionally and personally — in which leaving the house is a rare occurrence.
Read Annie Vainshtein's latest stories here. Send her news tips at avainshtein@sfchronicle.com. Twitter: @annievain
External Link: http://m.sfgate.com/technology/article/Meet-Zenplace-your-robotic-real-estate-agent-12456043.php#photo-6714199