S.F. Shipyard project delayed after contractor admits faking soil samples
February 8, 2017 • Posted in: Market News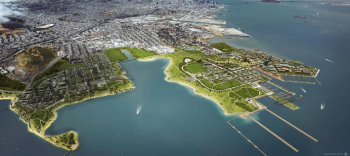 A contractor hired to clean up the soil at the San Francisco Shipyard has admitted faking soil samples submitted for review, delaying the transfer of three parcels of land at the massive Hunter's Point project.
The San Francisco Chronicle reports that the Navy confirmed that the contractor, Tetra Tech, had submitted soil for tests from at least 386 areas that had already been cleared by environmental authorities. Tetra Tech has been paid $300 million over two decades to clean up the soil at the shipyard.
Lennar spinoff FivePoint Communities is building thousands of homes and millions of square feet of office and retail space at the Shipyard. The delay in transferring the land is not expected to slow down the pace of development at the site.
"Derek Robinson, the environmental coordinator for the U.S. Navy's Base Realignment and Closure program at Hunters Point, said a group of six consultants is reviewing all the soil testing on the the former naval shipyard, which closed in 1994," the paper reports.
"We want to resolve these issues as soon as possible and transfer the property to the city as soon as possible," Robinson, who is an employee of the Navy, told the paper. The Navy will host a public meeting Wednesday to explain the process and answer any questions neighbors or residents might have.
"The 420-acre shipyard was one of the nation's most notorious Superfund sites, home to a federal nuclear program begun in 1946 that included a secret laboratory where tests were conducted to determine the effects of radiation on living organisms," the paper reports. "Military equipment and ships contaminated by atomic bomb explosions were kept at Hunters Point, and the grounds were polluted with petroleum fuels, pesticides, heavy metals, PCBs, organic compounds and asbestos."
FivePoint Communities Regional President Kofi Bonner, its top local official, said that the company was committed to making sure the soil was safe throughout the area.
"They are working through ensuring for themselves that Tetra Tech has not created issues in the cleanup," said Bonner. "Obviously, we applaud that. From our point of view, it is absolutely imperative that the Navy clean the property up to the level that was promised to the community."
The Navy is tasked with coordinating the Environmental Protection Agency and state regulators to make sure that the contractors it hires meet the federal "Superfund" standard uder the Comprehensive Environmental Response, Compensation, and Liability Act.
"We want to make sure people understand that if they are living in Hunters Point, it is 100 percent safe," Robinson said. "Nobody who works there or lives there has anything to fear from anything that was left behind by the Navy."
External Link: http://www.bizjournals.com/sanfrancisco/news/2017/02/08/sf-shipyard-delayed-soil-lennar-len-fivepoint.html