San Francisco
February 14, 2018 • Source: SFGATE • Posted in: Market News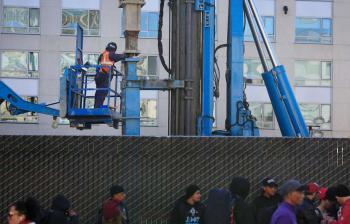 The biggest Whole Foods in San Francisco — a 55,000-square-foot store to be located at Market and Eighth streets — is expected to become the hub of a neighborhood that has seen an explosion of new housing and tech offices but lacks the conveniences and amenities of an established neighborhood.
The store will open in 2021 during the fourth and final phase of Trinity Place, a 1,900-unit, four-building rental complex that has been under construction for a decade.
The location will be the closest full-service grocery store for tens of thousands of residents — not only in Mid-Market but also the Tenderloin, Civic Center and western SoMa.
Trinity Place, which replaced the old Del Webb's Towne House Motel, has been under construction since 2008. So far, it consists of 1,398 units spread across three buildings, two on Mission Street and one on Eighth Street. Trinity Properties started construction on the final 503-unit tower last fall.
In addition to the Whole Foods, phase four includes another 30,000 square feet of retail, which will include a brewery and a food hall.
The project represents the realization of a vision that the late Angelo Sangiacomo stubbornly held on to for more than three decades, even as Market Street became blighted and major construction lenders refused to take a chance on a development that has totaled more than $1 billion.
Sangiacomo bought the 4.5-acre property in 1977 but didn't break ground on the first phase of the development until 2008, just before the financial crisis. When the markets melted down and development froze, Sangiacomo financed the project with his own cash. The first building, with 440 units and located at 1180 Mission St., opened in 2010. It was the only major building in San Francisco to open that year. Phase two's 418 units opened in July 2013.
Sangiacomo died in 2016 but lived long enough to see the first two phases of the apartment complex completed.
The third phase consists of 540 apartments and a 960-car garage, which will be shared between residents and retail. The garage required the contractor to dig 70 feet and shore up the two existing buildings on Mission Street. Rents range from $2,550 to $4,500, according to housing websites.
While Sangiacomo was the pioneer, other developers have followed.
About 5,000 new housing units have opened on Market and Mission streets between Sixth Street and Van Ness Avenue. Jobs have multiplied as well, with Twitter, Dolby, Square, ZenDesk and other companies taking over vacant or underutilized structures along Market Street.
The lease would have been a cause of celebration for the previous mayor, Ed Lee, who died in December. The revitalization of Mid-Market was a top priority for him and was spurred by 2011's so-called Twitter tax break, a temporary exemption from the 1.5 percent payroll tax for companies that relocated to Mid-Market.
"Whole Foods' announcement is a clear sign of continued private-sector confidence and further develops a diversity of neighborhood-serving businesses in the Central Market/Tenderloin," Mayor Mark Farrell said. "This is another major milestone in the late Mayor Lee's two-term commitment to revitalizing Central Market-Tenderloin."
Walter Schmidt, CEO of Trinity Properties, called Whole Foods an outstanding partner and noted that "the entire Mid-Market neighborhood will benefit from convenient access" to the store.
But if the Whole Foods becomes San Francisco's biggest branch, there is actually a precedent for a sprawling marketplace at the location. The site was previously home to Crystal Palace Market, a 71,000-square-foot grocery of imported goods, before it was torn down to make way for the Del Webb motel in 1959. Products came from at least 37 countries, and the store bragged of having the most varied offerings in the country. Its 65 shops included four dairy stands — selling 36,000 eggs daily — four poultry stands, six butcher shops, three fish markets, and seven fruit and vegetable stands.
"Years ago, when we were planning Trinity Place, my dad liked to marvel at the great convenience of taking an elevator from your apartment to buy a carton of milk," Mia Sangiacomo said. "It's a special thrill for all of us in the family to announce this lease with Whole Foods Market."
Randy Shaw, executive director of the Tenderloin Housing Clinic, said the Whole Foods represents "the most significant entry into Mid-Market since Twitter" moved its headquarters in 2012 to the Western Mercantile Mart building at 1355 Market St.
"This will be more impactful than Twitter," Shaw said. "We have never had a real supermarket anywhere near the Tenderloin."
He added that the intersection of Eighth and Market has been a busy corner for illegal drug sales for decades, and having a busy market there open from early in the morning to late at night will be transformative.
"It's what we desperately need," he said.
Tenderloin activists have long attempted to attract a supermarket to the neighborhood. While that has not been successful, an effort to convince existing corner stores to carry more produce, meat and healthier snacks has gained traction.
As far as full-fledged supermarkets, there are three about a mile away: the Market Street Safeway at Market and Church streets, the Upper Market Whole Foods at 2001 Market St. (at Dolores Street), and the Whole Foods at Fourth and Harrison. There are also two Traders Joe's stores about a mile from Trinity Place, one at California and Hyde and another at Fourth and Market.
Trinity Place resident Kat Ekaterina, who was walking her dog, Unique, on Tuesday morning, said she avoids going out at night because the streets are not safe. She said the Whole Foods would be "very convenient."
"I love living on top of BART, but I don't walk anywhere after 7 p.m., which isn't very late," she said.
Randy Robinson, a 63-year-old musician who was socializing on the corner, said he currently makes his way down to the closest Whole Foods, which at 499 Fourth St. is 1.2 miles away.
"They got some good stuff there — I like the fruit and the juices," Robinson said. "But it's going to cost you some lunch money."
External Link: https://m.sfgate.com/bayarea/article/San-Francisco-s-massive-new-Whole-Foods-set-to-12611117.php