San Francisco asks designers for new plans for Civic Center
January 24, 2017 • Posted in: Market News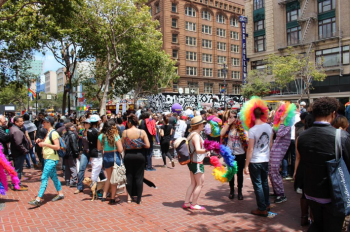 The City of San Francisco is asking designers to present new plans for the Civic Center via a $60,000 plan dubbed the Civic Center Public Space Design, the mayor's office said this week.
Formal proposals will be due Feb. 10 and the city's Planning Department has already met with several potential candidates.
"The plan also includes increasing activity in the area such as putting to use Polk Hall at Bill Graham Auditorium for an intimate 200-seat concert hall with 100 events a year and reopening the underground Brooks Hall, possibly as a food hall," the San Francisco Examiner reports."The effort could become one of the mayor's final acts in office and a lasting part of his legacy. He is termed out of office in January 2020."
The area has long struggled with functioning as a public, social space despite becoming a haven for homelessness and drug use — all adjacent to the City Hall.
John Updike, the City's director of real rstate, told the paper "our goal is to create a more active, inviting environment in the commons for all to enjoy."
The changes the city is hoping to see will include sweeping new designs, including a massive new space in a building that had formerly been closed.
"The City is also examining reopening Brooks Hall, the former 90,000-square-foot conference facility built below Civic Center Plaza, which was built in 1958 and closed down in 1993," the paper reports. "It could cost up to $40 million to reopen the space depending on the new use. Updike said ideas suggested for Brooks Hall include a food hall, kitchen incubator space or commercial use."
Both Jennifer Friedenbach, executive director of the Coalition on Homelessness, and Planning Department spokesperson Gina Simi said Friday that the new design would need to to meet the needs of the broad variety of people regularly using or visiting the Civic Center.
"There's been a lot of attempts to push destitute people out of the plaza and they have been a failure because when you make space unwelcoming it has the opposite impact," Friedenbach said. "Hopefully they don't make the same kind of mistakes and do a lot of anti-homeless stuff. Public space is for everybody regardless how much their salary is."
External Link: http://www.bizjournals.com/sanfrancisco/news/2017/01/24/san-francisco-asks-designers-for-new-plans.html