San Mateo contending with many downtown vacancies
September 9, 2021 • Source: San Mateo Daily Journal • Posted in: Market News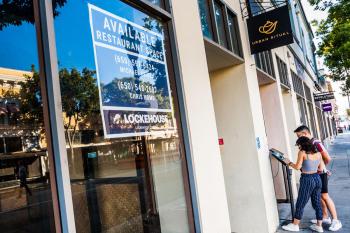 As San Mateo faces downtown vacancies made worse by the pandemic, local real estate companies are hopeful interest will improve, with demand for restaurant property spaces but less for general retail.
Jeremy Blatteis with Blatteis Realty Company represents several properties in San Mateo, with one vacant property on the verge of being leased. He is hopeful that the vacant site owners at 5 S. Ellsworth Ave. will pick a tenant in the next two weeks. Formerly home to popular restaurant 31st Union, the site has been vacant for three months but has six qualified offers from various restaurant and bar options. It currently has the infrastructure for a restaurant, with few needs for changes and improvements. Blatteis is optimistic San Mateo retail overall has a bright future downtown.
"We have been leasing in San Mateo for over 100 years, and I feel like San Mateo has a really good track record of bouncing back faster than San Francisco does and some other cities," Blatteis said.
Stephen Johnson of Capital Realty Group agreed. While COVID-19 has affected businesses and made it harder to lease larger and more expensive properties, he thinks people will have more confidence in the market.
"I think it's still improving and coming back. Things are going in the right direction," Johnson said.
He has two properties downtown, with one unoccupied for about two years. Formerly the Attic Bar and Grill at 234 S. B St., the unoccupied 75,000 square foot property will likely need a corporation with extensive resources to lease it and handle its size.
Downtown San Mateo consists of around 48 blocks, with its large center a hallmark of the city. A city report from February found 30 properties had some kind of storefront empty at that time. The City Council plans further October discussions about possible underlying causes and outreach. The council has expressed interest in addressing issues through its downtown area plan as part of its 2040 General Plan.
Michael Seigel of Blockhouse Retail Group said his downtown property at 10 E. Third Ave. had been listed for about two months. It was previously vacant for close to a year during the heart of the pandemic. COVID-19 has created more vacancies, but he is hopeful more interest will appear if pandemic uncertainty eases.
"There definitely will be more activity as things open up. Retailers are a bit hesitant, but there is a comfort level that we have bottomed out, and there is stability," Seigel said.
With diminished demand for general retail space, the highest need is for restaurant spaces with existing kitchens. The property on East Third Avenue was a former fitness space with specialized improvements that would be hard to turn into a restaurant.
"We have had inquiries, but unfortunately, the demand is for restaurants," he said.
Location can also play a factor in vacancies. Seigel noted East Third Avenue is not a heavily pedestrian street like East Fourth Avenue and South B Street, which have high demand and low listings. Leases usually take six months minimum to agree on a letter of intent and deal with attorneys. Additional time is needed if there is a change of use for the development or new construction permits.
Seigel suggested emulating the concentrated nature of downtown Burlingame to create synergy with stores, as San Mateo's downtown has a significant number of streets with general retail spread out. He said the city could also look at rezoning options.
"There may have to be some more flexibility in what type of uses are allowed on ground floor spaces," Seigel said.
Bruce Bean is the founder of The Trafton Group, a San Mateo-based commercial real estate company that manages and leases property for property owners. He has worked in the San Mateo market for 30 years and has seen bad turns like the dot-com bust and the great recession. He said COVID-19 had closed some stores and reduced interest in vacancies overall.
Bean noted leasing to retail and smaller office spaces had been a particular struggle. Only one of his leased spaces at 324 Third Ave., a computer repair shop, is retail. He cited easier and faster purchases through Amazon, noting it was hard for general retail and office space during this time. The delta variant has also affected business in the last few months, as interest picked up for a couple of months earlier in the year before slowing down.
"Office space has been pretty dead in downtown San Mateo," Bean said.
Instead, it's mostly restaurants interested in vacancies downtown, like cafes and boba tea shops. Bean said, according to CoStar, a commercial real estate company that gives analytic data information about real estate, retails rents downtown has gone down from four to five dollars a square foot before the pandemic to $2.88 per square foot now.
San Mateo Mayor Eric Rodriguez said the city wanted to help address vacancies and potential underlying causes if it could. However, he did not see spending lots of money for downtown because of the city's financial situation.
"Our downtown is extremely important to us, and we are trying to do everything we can. There is a lot we cannot do, and we are looking at what we can do," Rodriguez said.
Rodriguez noted landlords who own the properties often charge high rents, making it difficult for renters to move in during a pandemic. Some properties are also taxed at a low rate due to being owned since the 1960s, giving owners little incentive to lower rents while waiting for a suitable option. While people may suggest changing what types of businesses go downtown, he didn't think that was the right answer.
"That can change the whole nature of our downtown if it becomes a bunch of offices like dental and doctor offices on the first floor in our downtown," Rodriguez said.
The mayor said helping businesses and addressing vacancies to ensure a vibrant, walkable downtown remains his goal.
"This is a very tough climate to invest in starting a business in. I think businesses are waiting and seeing. They don't know when their customers are going to come back, and they don't know if they are going to be able to hire the number of people they need to be successful," Rodriguez said.
External Link: https://www.smdailyjournal.com/news/local/san-mateo-contending-with-many-downtown-vacancies/article_2075a2d8-1122-11ec-b792-b3c02fd2e1f9.html