Sonoma cheese company gobbles up production facilty in Healdsburg
October 18, 2016 • Source: http://www.bizjournals.com • Posted in: Market News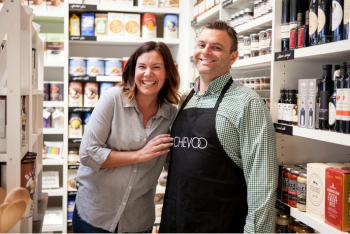 When Gerard and Susan Tuck decided to start a family business, they didn't do it the way most people might. The couple was living in Melbourne, Australia, with their three kids and Gerard was running the country's largest importer and distributor of artisan cheese. During his time with the company, the marinated goat cheese category became the biggest in the country and the Tucks saw an opportunity: If Australians loved this cheese so much, why wouldn't Americans?
At the same time, Gerard decided it was time to cross an item off his bucket list – to go to an American university – and was accepted into Stanford Business School.
"We just decided to come over here with the loose intention of, well, let's see if it makes sense to come and make cheese here," Gerard said.
It turns out it did.
Last year, the Tuck's launched Chevoo, a brand of goat cheese marinated in olive oil and flavored with spices. (The name is a combination of chèvre – goat cheese – and EVOO, an acronym for extra virgin olive oil).
Based in Sonoma, the company currently has three flavors on shelves in 400 retail locations across the U.S., including all the Whole Foods in Northern California, and has proven popular.
"It's been overwhelming in response," Gerard said. "I don't think we necessarily thought that people would get it straight away. It's really been amazing how quickly people have been adopting it into their lives."
Chevoo's cheeses come in 7-ounce jars with straight sides and a wide mouth meant for dipping. Inside, small squares of chèvre float in olive oil and combinations of spices like rosemary and sea salt, dill pollen and garlic, and Aleppo chile and lemon. The company is one of the only Americancheese-makers to offer such a product.
Read More Here