Twitter's entrance into Mid-Market changed the neighborhood. Would its exit do the same?
April 26, 2022 • Source: San Francisco Business Times • Posted in: Market News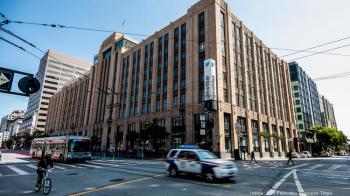 When and how much of the office workforce that once roamed Mid-Market will repopulate the tech-heavy neighborhood in the wake of the pandemic has been an open question, and on Monday neighborhood stakeholders were served with even more uncertainty.
A tumultuous couple of weeks for Twitter concluded Monday with the San Francisco-based social media giant conceding to a sale to Elon Musk in a $44 billion deal — leaving observers to wonder whether the company's days at its Mid-Market headquarters are numbered.
Ahead of the news that his bid to buy the company had been accepted, Musk suggested implementing a handful of cost-saving strategies at Twitter — including shuttering the company's more than 800,000-square-foot San Francisco headquarters. Earlier this month Musk, in what was taken as a dual dig at Twitter's work from home policy and the area's large unhoused population, suggested the largely unoccupied property be repurposed as a homeless shelter. (That tweet was later deleted.)
But with Musk relocating both himself and the headquarters of his car company, Tesla, from California to Texas last year, the risk is far higher than just one perhaps partially tongue-in-cheek tweet. Real estate insiders on Monday described the potential departure of the Mid-Market tech company, whose tenancy was once hailed as the solution to revitalizing a notoriously blighted stretch of the neighborhood, as a loss with serious consequences.
"This is an area seeing significant occupancy losses and vacancy rate of well over 30%. The loss of major anchor tenants like Twitter would have a meaningful negative effect on a market already sliding," said Alexander Quinn, head of research for Northern California for real estate services firm JLL. The region's total vacancy rate at the end of Q1 2022 was 33.7%, data from JLL shows.
Another member of the real estate community had a more visceral reaction, suggesting that Mayor London Breed should directly call Musk to let him know "how important" the company is to San Francisco.
"Without Twitter, the whole area could implode," the source said. "I hope the city mobilizes to save the area."
The Mayor's office did not immediately respond to request for comment.
Twitter's formal entrance into Mid-Market in 2012 marked a new era for the neighborhood's office market. After successfully lobbying the San Francisco Board of Supervisors for a payroll tax break, it moved into its headquarters at 1355 Market St. The break meant Mid-Market companies could avoid paying payroll taxes on new hires for up to six years — and it lured a bevy of tech players to an area where decades of previous efforts to arrest its decline had largely failed.
Twitter, once the lone tech tenant in the Mid-Market neighborhood, which spans the blocks around Market between 5th and 9th streets, soon had company. Zoosk, an online dating platform, signed a lease at 989 Market St. in the spring of 2012, and payments platform Square and ride-hailing app Uber announced in late 2012 and 2014, respectively, that they would take space at 1455 Market St., just a block away.
The "Twitter tax" break was allowed to sunset in 2019, and the controversial corporate pass produced mixed results. One thing, however, is clear: It succeeded in spurring foot traffic and economic investment by tech companies and workers in the area.
The tax break resulted in an over 600% increase in business tax revenue in the mid-Market area between 2010 and 2013, compared to a 47 percent increase citywide, according to a 2019 audit of the program.
Still, the area is now back under economic duress. Where Mid-Market's status as a burgeoning tech hub might have been a strength pre-pandemic, it's become something of a weakness for the neighborhood today, said Ted Egan, chief economist for the city and county of San Francisco said, in that it is riddled with tech tenants who have implemented flexible remote work policies or are reconsidering their need for San Francisco office space altogether. That's had catastrophic effects for the local businesses that set up to serve office workers in the area.
Kazuko Morgan, executive vice chairman for retail services at Cushman & Wakefield, said that while the pandemic certainly dampened the hope for Mid-Market's resurgence, there have been some bright spots of late.
Whole Foods Market opened a San Francisco flagship store last month at 1885 Market St., and shoe store BAIT filled a longstanding vacancy at 1091 Market St.
"Obviously, any business that closes or offices that shut down affects our environment," said Morgan, but added that the impact of a potential departure by Twitter from the neighborhood would not be "immediate," as occupancy has been down at the company's headquarters for more than two years due to remote work.
"We need more businesses to open. We need more residents. We need more office workers, and we need more security," added Morgan about Mid-Market.
It's also possible Musk could clamp down on Twitter's existing flexible remote work policy and ask its Bay Area employees to return to the office. Musk flagrantly disregarded Covid-prompted work restrictions before — in 2020, amid a legally mandated shutdown, he reopened Tesla's Fremont factory in a show of defiance against Alameda County — a fight he won in court. He has also hesitated to embrace remote work.
JLL's Quinn said it's not clear how Tesla's in-office work style might translate to Twitter. But if Musk were to pull the trigger and end remote work for Twitter employees, the return of those employees to the area would have an immediate positive impact on the business ecosystem of Mid-Market, Egan said.
Egan said Monday he had no insight into the company's immediate plans, but added in regards to Musk's suggestion that Twitter shutter its headquarters that "just because Mr. Musk says something in the middle of a takeover bid doesn't necessarily make me think it is his highest priority." He pointed to Twitter's existing commitment to 1355 Market: The social media company renewed for two floors and expanded into a third floor in the building just six months ago.
On the other hand, Twitter made more than 100,000 square feet at 1 10th St. — which is connected to the main headquarters building at 1355 Market St. — available for sublease in late 2020.
Egan also said that an investor's bid for a company at 25% higher than its market capitalization could typically be taken as a show of faith in that company — and, by implication, of the city it is located in.
"I wouldn't discount that just because the company is Twitter, the buyer is Elon Musk and the city is San Francisco," he told me. "Putting aside the underlying sentiment that all three things might evoke, this is an actual business transaction with actual economic impact of the company growing."
External Link: https://www.bizjournals.com/sanfrancisco/news/2022/04/25/twitter-elon-musk-san-francisco-headquarters.html?cx_testId=40&cx_testVariant=cx_41&cx_artPos=1#cxrecs_s